Feel The Steel Barbell Club
We Are A USAW Sanctioned Weightlifting Club
Days/Times:  Monday/Wednesday/Friday  5:30pm-7:00pm
Olympic Lifting is coached by Vlad Iliescu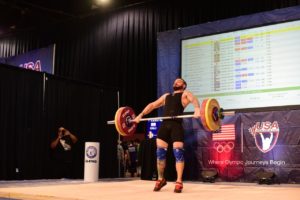 Certifications:
CrossFit Level 1

USAW Sports Performance Coach

USAW LWC Referee
Background/Competitions: Found weightlifting through Crossfit and never looked back. I've been a competitive weightlifter since 2013.
Favorite WOD and Why: Because I am a weightlifter, I don't Crossfit regularly. However, if I have time after my training and want a quick WOD, I love doing 3RFT: 500m row / 500m run.
Favorite Cheat Meal: "Athletes don't diet and work out, they eat and train." I generally eat pretty healthy but don't track macros or tell myself "no" if I want to indulge…but Red Bull and donuts are my favorite!
Favorite Healthy Meal: All of the things GRILLED. Also love to smoke BBQ.
Favorite thing about coaching:  I know the pride you feel when you accomplish something you didn't think you could…and I love helping others reach their goals and feel that same feeling.
Fitness Background Before CF:  I was always active and athletic…played some football…prior military…picked things up and put them down for a while…tried some Crossfit…fell in love with weightlifting.
Favorite Activity Outside of CF:  I'm pretty active in the outdoors. Fishing, snowboarding, surfing, hiking…you name it. Of all of those, backpacking is perhaps at the top. Throwing on a pack with everything you need for a few days so you can wander the backcountry, summit a peak and sleep under the stars hits something primal inside.
Favorite Movie:  The next one that provokes thought or pulls at the heart strings…or just has a lot of explosions.